Though India is mainly Hindu and Buddhist, there is a good amount of Christians there as well. So Christmas has become a much celebrated festival in many parts of the country.
Planning for the season begins on the first Sunday of Advent, just like in other parts of the world. One thing that many people plan is their "Christmas Cradle," or nativity scene. There are often competitions between neighbors to see who has the most elaborate nativity scene.
Churches and homes decorate with lots of colors and lights...and stars! There are stars and star shaped lanterns EVERYWHERE!
Another thing that some people decorate with is a tree. Although some people have a traditional Christmas tree, many others choose a banana or mango tree! They also decorate with mango leaves instead of holly.

Midnight Mass
There are some specific traditions that are special to particular parts of the country. In Goa, in west India, people sing carols the whole week leading up to Christmas. They have a tree and eat local sweets, like neureos (fried pastries filled with fruit and nuts), and dodol (toffee with coconut and cashew). On Christmas Eve, they have meal of turkey and chicken, and go to midnight mass. Following the service, church bells ring to announce the coming of Christmas.
In northwest India, the Christians in the Bhil tribe go out every night for a week singing carols for their neighbors and for neighboring villages.
In southwest India, in the state of Kerala Were, the Catholics fast from December 1-24!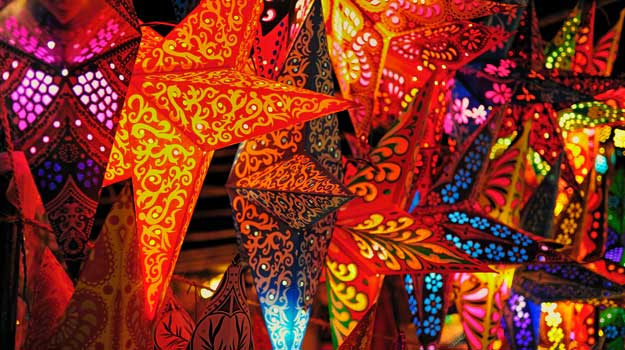 Christmas decorations in India
In some places in southern India, Christians place oil burning clay lamps on their roofs to show their neighbors that Jesus is the light of the world.
For the people who do have Santa Traditions, his name is 'Christmas Baba' (Father Christmas). He rides a horse and cart and brings gifts.
Some people exchange gifts, and some don't. For those who do, it is usually done on Christmas Eve. For those who don't, they might go and share Christmas sweets with their neighbors instead.

शुभ क्रिसमस 'Shubh Krisamas' (Hindi for Happy Christmas) from India!