Hello Friends!
Sooo....the summer just completely got away from me. I guess that's what happens when you go to Tanzania for six weeks. :) Well, here are all the books I managed to read in June, July, and August 2018! This will be a long one, because summer camp and long plane rides do help with racking up the reading! :)
A Bride For Donnigan (Janette Oke)
Fiction, Romance; 5 stars
This is the second or third time I have read this book. My mom and I both read and loved this book for the first time about a year and half ago.
Image from Paperback Swap
Kathleen is a young woman with a dismal future in Ireland. Her stepmother mistreats her. When she sees an advertisement to become a "mail-order bride", she is repulsed at the thought at first. But over the next few days, she comes to grips with the idea that this crazy scheme may be the only way her future could get better. So she signs up, gets on a boat, and heads to America.
Meanwhile, Donnigan is a lonely farmer out in the Western frontier of America. He sees an ad in the paper saying that he could "order" a bride. Like Kathleen, he is at first repulsed by the idea of buying a woman to be his wife. But gradually he accepts the idea and signs up.
When Kathleen steps off the stagecoach, her expectations are dashed. Donnigan isn't Irish as she'd hoped. The west is nothing like home, and she feels Donnigan is reluctant to marry her and treats her like a child. Donnigan, meanwhile, is having second thoughts about what he has done. Kathleen appears to him to be still a child. She has a limp, she doesn't look strong. He wonders if he was wise to sign up for this.
Kathleen is determined to be a good wife, never complaining and not talking too much. But she is bothered by the fact that Donnigan treats her like a child, even after they are married and have their first child. Donnigan, meanwhile, is determined to take care of his new wife. But he really wishes she would talk to him. Life is no less lonely than it was before she arrived.
Finally, through a series of events, husband and wife begin to actually talk to one another. And as they grow to truly love each other, they also discover God and start a new life together with him and their ever-growing family.
Rare Earth (Davis Bunn)
Image from Christian
Book Distributors
Mystery, Fiction; 4 stars
Marc Royce is sent to join a relief team in Kenya after a volcano erupts, leaving many displaced villagers. But his real reason for being in Kenya is to find a missing man and discover some secret government operations. No one thinks he will live long, but Royce surprises them all as he does his detective work. Will he be able to solve the mystery before the clock runs out?
This is the second book in Marc Royce series. I was surprised at how much I enjoyed this book, because I don't usually like mystery/suspense books. However, the clues Royce found to solve the mystery were not as clear as the clues in the first book (Lion of Babylon), so I'm only giving this one 4 stars.
Kisses From Katie (Katie Davis)
Autobiography; 5 stars
Image from Amazon.com
Katie was a senior in high school (like me!) when she visited an orphanage in Uganda for three weeks and fell in love with the country. Her parents wanted her to attend University, but she wanted to move to Uganda to serve the people she had met there. Her parents allowed her to go to Uganda for one year, on the condition that she would return to the states and attend college. During her year in Uganda, nineteen-year-old Katie ended up adopting 14 Ugandan girls and starting a ministry to provide Ugandan children with education and food. She returned to the states for a semester of college, but she discovered that her home was Uganda. In this book, Katie relates her inspiring story, including all the hard things and good things and the lessons that she learned along the way.
Rain, Reign (Ann M. Martin)
Fiction; 5 stars
This is the sweet story of a girl named Rose. Rose is obsessed with homo
Image from Amazon.com
nyms, prime numbers, and rule. Rose is officially diagnosed with high-functioning Autism, and none of her fifth grade classmates understand her. Routines and rules and very important. Loud noises and lots of activity agitates her. Her father doesn't know what to do and they only person who really seems to love her is her Uncle, who helps out as much as he can. Rose has a dog named Rain (whose name is special because it has two homonyms). This story, told in Rose's words, is of when Rain disappeared in a storm. It tells of Rose's dedicated search for her beloved dog, the hard choices she makes along the way, and the new friends made and experiences had. It is a tear-jerker from start to finish. Beautifully written, and a fascinating look into the mind of a high-functioning autistic child.
Renegade Skyfarer (R.J. Metcalf)
Fantasy; 4.5 stars
**view my full review
HERE
**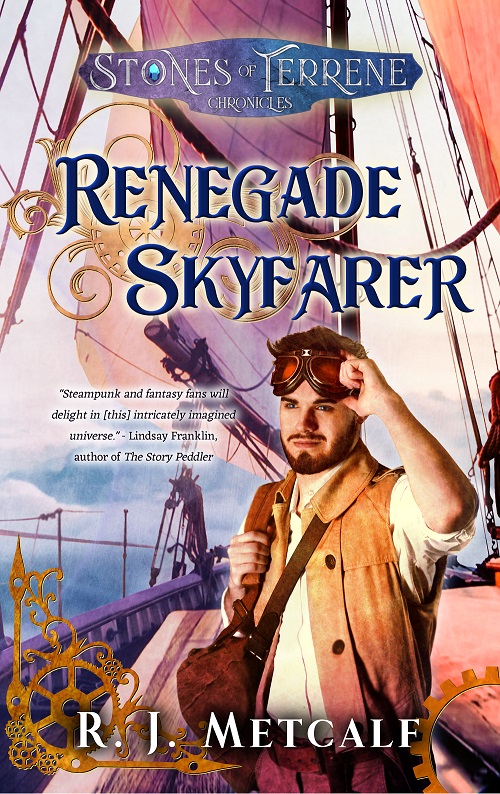 Image from
rjmetcalf.com
Magic. Dragons. Mystery. Peril. Betrayal. Love. Emotion.
All this and more in this exciting fantasy tale with a steampunk twist.
Ben wakes up in a world he doesn't recognize and must choose whether to stay with his new friends, or set off alone to try to find the world he is from.
Jade wants out of the smothering situation she feels she is in, but something is keeping her where she is for the moment.
Slate feels that he must avenge the death of a friend and find a way to fix the keystone without endangering his loved ones.
This is one of those books that I could read again and again and still love. Which is saying something coming from me for a Fantasy book. Those of you who have been hanging out around my blog for a while know that Fantasy is not my preferred genre.
The things I didn't like: First, although I love the mental images the words produced in my mind, there was a bit more blood than I usually enjoy. The fight scenes were amazing, but there was a lot of blood. Second, dragons were huge in the first half of the book, but mysteriously dropped out of the picture in the second half.
All in all I loved this book and can't wait for BOOK TWO THIS FALL!!!!
I Dared To Call Him Father (Bliquis Sheik)
Autobiography; 5 stars
Image from Amazon.com
This is the amazing and miraculous story of a Muslim woman's journey to faith. Bliquis was a rich Muslim woman in Pakistan, but through a variety of dreams and other spiritual experiences, she was drawn to Christ. I learned a lot from her simple faith and trust in the true God, her ability to listen to his leading, and her utter obedience. Her story is inspiring and her writing style is enjoyable as well.
The Orphan's Wish (Melanie Dickerson)
Fiction, Romance; 5 stars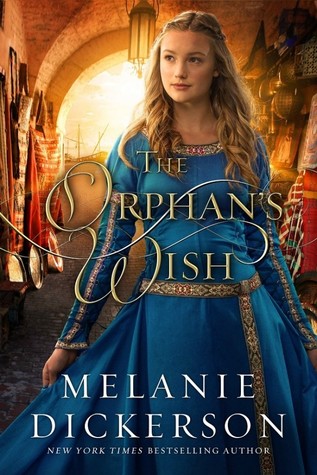 Image from Goodreads
I have been waiting for this book for what feels like FOREVER and it came out this summer while I was gone. When I got back, a friend gave it to me as a late b-day gift and I literally devoured it as soon as I could.
I was not disappointed.
Aladdin is a young man from the Holy Land who is adopted by a priest on a crusade and taken back to Hagenheim, Germany. Here, he meets the young Lady Kirstyn, daughter of the Duke, when she comes to visit the children he lives with at the orphanage. The two become close friends.
But Aladdin is haunted by memories from his past in the Holy Land. To try to raise his status in the world and move past his mistakes, Aladdin travels to a place where he can get a good job.
But when Kirstyn is caught in the middle of a feud between Aladdin's employer and his son, Aladdin must rescue her. But in the process of saving her, he may have to forfeit his new-found high status. Will he risk everything to save her, or loose her in order to keep his security?
In This Generation (Todd Ahrend)
Christian Non-fiction; 4 stars
Image from Amazon.com
The goal of this book was to unpack something called "The Student Volunteer Movement" from the 19th century. This was a movement of college students volunteering to go overseas as missionaries. The author unpacked some things from those days (theology, methods, etc.) and tried to apply them to today's world. This is actually a great book if you are a mobilizer looking for help getting others excited about missions. However, I felt like the goal of the book stated in the first chapter wasn't really accomplished, so I'm only giving it four stars.
Hello, Universe (Erin Entrada Kelly)
Fiction; Newberry medal winner; 4 stars
This was a fun story about four middle-school children and how their lives intersected one summer.
Image from Amazon.com
Virgil is quiet and shy. He is misunderstood by his parents and brothers. But his grandmother adores him.
Valencia is thoughtful, sweet, clever, and smart. Oh, and stubborn. Real stubborn.
Chet is downright mean. His nickname is "the Bull", and it fits.
Kaori believes in spirits and fate. She tells fortune. She reads stars.
They all live lives mostly isolated from one another. Until Chet plays a prank on Virgil...and
everything changes.
Is it just coincidence?
Or is it "meant to be"?
Virgil's character development was excellent throughout the book. We saw him go from cowardly and pathetic to bold and courageous. The story was fun.
My two complaints are this: One, the point of view skipped back and forth between the four children. Sometimes, this can be very well done. But in this case, sometimes the voice changes weren't very clear, which made it difficult to follow. Secondly, each of the children believed something different about spiritual matters. Which is fine. However, the author didn't really seem to make it clear which (if any) they believed was correct. I feel like this could be confusing to a child, and (since this is a Newberry Medal book) this book was written for younger readers.
Overall, "Hello, Universe" was a fun and quick read.
Hiding in the Light (Rifqa Bary)
Autobiography; 5 stars
Image from Amazon.com
Another amazing story of a Muslim woman's journey to faith in Christ. As a child, Rifqa was mistreated by her family. She received an eye injury as a young child and her uncle abused her. Both incidents caused her parents to look at her as shameful and less valuable than her brother.
When the family moved from Sri Lanka to the United States, she started seeking Jesus. When she was 14 or 15, she became a Christian. She managed to hide this from her parents for a full year...but inevitably, they found out. Her father threatened to kill her because she had shamed their family.
So Rifqa, age 16, decided to run away. She got help from some Christian friends and ran from her home in Ohio to Florida. A two-year legal battle followed. In the middle of the year she was 17, she was diagnosed with a rare cancer. Throughout her childhood Rifqa had many experiences that caused her to grow in her faith and depend more and more on God.
This was an incredible book and I literally could not put it down. I read all 29 chapters in less than 24 hours.
How It Feels To Fly (Kathryn Holmes)
Fiction; 2 stars
Image from Goodreads
Sam is a ballerina who struggles big time with body image. She goes to a camp for kids who struggle with anxiety and can't perform at their best. There's this nasty girl named Zoe, this overconfident guy named Dominic, this sweet girl named Katie, this quiet girl named Jenna, and this nervous wreck of a guy named Omar. There's also the Psychologist and the two junior counselors, Andrew and Yasmin. Sam goes through the activities with the rest of the campers, wondering if they will really ever help her.
There was quite a bit I didn't like about this book. Like, Sam had a major crush on Andrew, which was awkward, amusing, and totally not okay all at the same time. Zoe was horrid. I mean, horrid. There was a bit of taking God's name in vain. The methods that the Psychologist used to try to help the kids get over their anxiety were not very Biblical. I had to keep reminding myself that this is not a Christian book. And then there was the scene where Zoe stole beers for all the campers and they drank them secretly late at night. They knew it was wrong that she had stolen the beer, but no one seemed to object to kids drinking beer late at night and hiding it from the adults.
For me, it was one of those books that you kind of enjoy while reading it, but when you get to the end, you realize you didn't really like it and it was kind of a waste of time. Oh well.
Missions (Andy Johnson)
Christian Non-fiction; 5 stars
Image from Amazon
This book is great for churches who are wondering how they can improve their missions program. Johnson asks great questions, makes wonderful points, and, most importantly, starts with truths from God's word. In particular, I thought his chapter on short term missions was amazing. He talked about
all the problems we've seen with short term missions trips, but he (unlike other authors) didn't condemn all short term trips as bad. Instead, he talked about what we can do to improve our trips and make them more effective.
Besides that, he also discussed how churches can be better senders and supporters, how to evaluate who to support, and the idea of breadth vs. depth (how many gospel workers you support vs. the deep relationships you can build with a few). He addresses very real and difficult topics from a solid biblical perspective. I really enjoyed this book and could not put it down.
The Giver (Lois Lowry)
Sci-fi; 4 stars
Image from Amazon
Jonas lives in what seems (at first) like a perfectly normal world. But you don't have to get very far in the book to realize it is far from normal. I can't even describe this alternate world. Birthdays and the privileges that come with it are the same for everyone. You are an adult at 12 and training for your career (which has been selected by the elders) begins. There are certain words and things that are not allowed. Dreams must be shared with the rest of the family every morning. There are mandatory
"feeling sharings" each evening. Everyone rides a bike. There is no death, rather a celebration called "release". Your spouse is carefully chosen for you by the elders. There is no conflict, no war, no death, no sickness...This is the world that Jonas is born into. He has one younger sister. When Jonas is 12, he is chosen to be the Receiver. This means he meets with the former Receiver (now called the Giver) and is given memories of all the things not in the world he lives in...joy, anger, love, war, and color. That's right, the world Jonas has been living in is grayscale. Jonas must keep these memories to himself. One day, he and the Giver decide that they have to share the memories with the people...somehow. The book ends with Jonas and the Giver setting some kind of plan into motion to bring feelings and memories back into the community.
What have YOU read this summer?
Image from
the-community-book-bank.business.site